External dimensions of aircraft transport
AN 26
Carrier aircraft AN 26 is traditionally used for carrying cargos and small-scale equipment for distances up to 2 000 kilometers. This ship is notable for its remarkable steadiness, ease of control, thereby the aircraft can be controlled by semiskilled pilots. And the unique take-off and landing qualities together with high-pass landing gear make it unpretentious to the any type of flight strip and allow to operate an aircraft in almost any weather conditions on pebbly, unpaved, sandy, drenched and snowy fly grounds of a small size. The construction of the monoplane and the wide opening bulk cargo door allow to install a special trap door, which makes the loading and unloading processes from the ground or from the auto body more fast. The overhead crane track, built in the aircraft, is capable to lift the weight up to 1 500 kg. Due to this crane track the speed of loading and unloading works can undergo faster. Our professionals will be glad to organize for you the delivery of cargo by aircraft AN 26. Also we can render customs services, solve "paper" issues and control every stage of transportation.

AN 74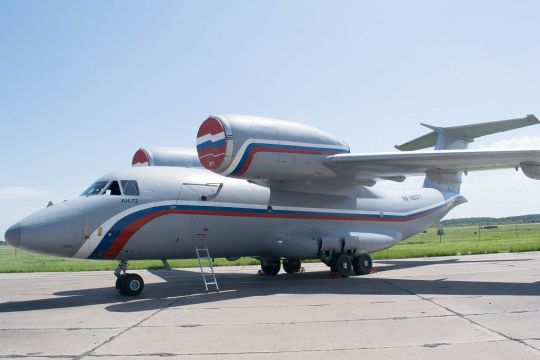 An 74 is a unique aircraft created for carrying cargos and equipment at any latitude under any climatic environment. It runs faultlessly at temperature behavior ranging from – 60 to 45 ° C, in mountains and on plains, at the equator and poles. This aircraft is usually used for short range and midrange. AN 74 can be operated on pebbly, unpaved, sandy, drenched and snowy fly grounds. This plane is able to carry out take-offs and landings at any time of day. Aircraft hold is optimized for the typical cargoes and allows to transport break-bulk cargoes, goods packed in shipping skid, out-of- gauge cargo containers (tuns, bales) and also wheel type equipment. Loading opening is closed with ramp. The aircraft is also equipped with in-plane loading system with weight-lift ability up to 2500 kg.
AN 124 (Ruslan)
AN 124 (Ruslan) belongs to the heavy cargo aircrafts and meant for transportation of oversize loads all over the world. Excellent aeroperformance and inevitably long-range capabilities are provided due to large arrowy airfoil and carefully designed shape of fuselage. The multi-rack 24-wheel landing gears allow to use AN 124 on the unpaved strips of fly ground as well as to change oblique angle of fuselage and the parking clearance, what easy up the processes of loading and unloading cargoes.
The special design of the fuselage assumes the presence of two bulk cargo doors, one of which is located in the fore body and the other one - in the tail unit. The aircraft is also equipped with on-board mobile cranes and other loading equipment with a total carrying capacity of 20 tons and mooring equipment, so loading and delivery the goods from China and other countries can be performed in a shorter periods of time. The aircraft AN 225 (Mary) is very similar in design and characteristics to the AN 124 and allows transportation of heavy oversized cargoes weighing up to 200 tons.

IL 76
Aircraft IL 76 is the best alternative for quick delivery of oversize cargoes, machines and equipment by medium haul air-routes, located in different latitudes. Almost any location conditions are suitable for IL 76. Landing gears with cross-country travelling ability, high lift wing devices and impressive power-to-weight ratio provide flying-off and touchdown of aircraft even on the unpaved ground of fly strip. At the same time takeoff and landing distance is quite short for the aircraft of these sizes. The product delivery from China to Russia as well as carrying cargoes from other countries can be carried out in igloos and automobile containers of different types, shipping skids and other cargo containers used for international transportation. Such flexibility of the aircraft is achieved due to special design of cargo hold, which is equipped with different airborne and load devices and its sizes.
Airbus 300 B4
Aircraft airbus 300 B4 was specially developed for transportation of oversize cargoes, equipment and devices for midrange and short range (up to 2 700km). The distinctive features of this aircraft are enlarged fuselage, opening up nose cowl and reinforced floor. On the port of fuselage before the wing there is a cargo door 3.58x2.56 m. Up to 20 cargo pallets can be transported in the cabin simultaneously and also 20 cargo bins of LD 3 type can be transported in lower cargo bays. The aircraft is equipped with a magnifical system of load-handling equipment.

Boeing 737
Boeing 737 belongs to the short range air transport. More than a quarter of century this aircraft became a number one for short ranges among different airlines. High ascensional power of the aircraft, perfect flying qualities at slow velocity, providing opportunities for short landings and take-offs, and economical operation on a fast speeds and low heights allow him to be competitive up to now.
Boeing 747
Boeing 747 belongs to the group of aircrafts with a high lifting capacity. At the same time it has low fuel consumption per ton-mile with flying range up to 8000 km. That's why this aircraft is ideal for organization of cost-effective and the most profitable delivery of cargoes from China and the other distant countries. All-cargo aircraft Boeing 747 is equipped with a reinforced floor, sizeable side-loading freight door and the full set of load handling equipment.
Boeing 757-200F
Boeing 757 is designed to carrying cargoes weighing up to 39 tons. Up to 15 standard shipping skids can be placed in the cabin. There is a bulk cargo door left side of fuselage, through which with the help of winding engines and side door loaders loading and unloading are carried out. Unrefueled endurance of this aircraft is 4 670 km.
Boeing 767
767-300F can hold up to 24 standard shipping skids with dimensions of 2 200x3 200 mm on the upper deck and up to 30 LD 2 cargo transporters on the lower deck. The total volume of cargo payload is 438 cu.m. The aircraft is equipped with a big bulk cargo door on the upper deck near crew door. On the lower deck there are 3 bulk cargo doors, two doors at the right sight and one door on the left.
Boeing 777-200F
Maximum payload of 103 tons makes this aircraft the direct competitor of 747-200 F (110 tones). The maximum range of the aircraft with gross load is 9047 km. With reduced load, the range can be increased. Since this aircraft has better performance characteristics with other all-cargo aircrafts, the airlines plan to replace Boeing 777F with Boeing 747-200F and MD-11F.
MD 11
MD 11 is a wide body long-range aircraft, which is able to transport cargoes for up to 7 500 km. 6 standard shipping skids can be placed on the main deck, the other cargo is placed on the lower deck. The loading is carried out through the opening up door with dimensions of 3.55 x 2.55.
TU 204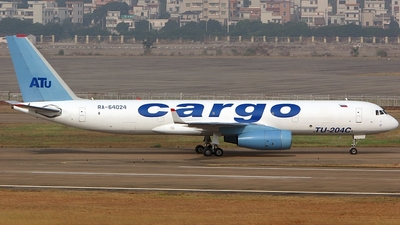 Aircraft TU 204 can be named cantilever low-winged aircraft. Usually it is used on the short ranges. The latest design changes have the possibility of reduced take-off and landing thank to which this aircraft can be used even at the small fly grounds. TU 204 is the perfect choice for transportation cargoes in an out-of-the-way spots of our country because of its relatively svelte weight-lift ability together with impressing maneuvering ability.